>> Click here for Beloved Community Information <<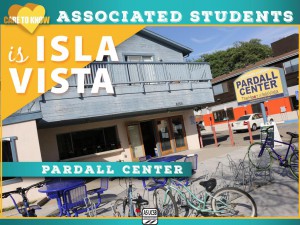 The Associated Students Pardall Center is a unique, vibrant space located in the heart of Isla Vista that provides free study/work, meeting and events spaces and resources for the entire community.
On the first floor, we have individual and group spaces for study and work, a meeting room, a main area and a front patio for those needing space to congregate. We regularly host campus and community events, meetings, study groups, and impropmtu gatherings. We offer free computers, printing and Wifi.
On the second floor, the Isla Vista Tenants Union provides tenant's rights resources and assistance to all residents of the Isla Vista community. The AS Legal Resource Center provides free legal consultations, education, and referrals to registered UCSB students.
To learn more about this unique space and the resources we provide to the community, visit our About Us page.
—
Please feel free to come by, call or email with any questions. Check us out on Facebook to learn about upcoming events. We hope to see you soon!
Regular Hours:
Upstairs
Mondays through Fridays: 9:00am-5:00pm
Downstairs
Mon-Thu: 12:00pm – 8:00pm
Fri: 12:00pm – 6:00pm
Sat: 10:00am – 6:00pm
Sun: 12:00pm – 8:00pm
We are closed during University recognized holidays. Please visit us on Facebook for updates to the regular operating hours.
A.S. Pardall Center
6550 Pardall Road, Isla Vista
805-770-3145